Innovative - Natural Looking Scalp Tattoo
Posted on 23rd February, 2022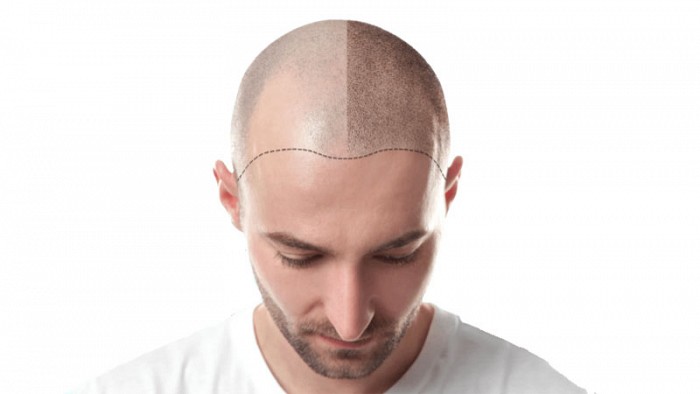 As a cosmetic tattoo procedure during which natural pigment is deposited underneath the scalp by using a tiny needle, micropigmentation is an innovative way to replicate the appearance of natural hair follicles and add density to your hair.
By camouflaging the areas of skin where hair loss has already occurred, it helps create a new hairline for the client.
A slightly different form of micropigmentation, known as microblading, is also used to enhance the appearance of the eyebrows, mostly by women whose eyebrows are thin and have irregular shapes.
This state-of-the-art technology provides realistic, natural, and semipermanent augmentation to the scalp, as once the pigment is deposited, it will remain in the skin on your head for at least 4 years, having the same look and quality. When you begin noticing some fading, which is natural, as the skin exfoliates itself and the scalp is often exposed to natural elements, it is time for some touch-ups, whose cost will be considerably lower than the cost of the entire procedure.
Why Choose Scalp Micropigmentation?
Unlike hair transplantation, which is a quite invasive procedure that might leave you with a visible scar on your scalp, scalp micropigmentation offers noticeable results as a minimally invasive procedure. You can think of scalp micropigmentation as a tattoo. The only difference is that the ink does not reach that deep into the skin with micropigmentation and that micropigmentation is a semipermanent hair loss treatment. However, it is very important to know that you will have to care for your scalp as you would do following a tattoo, as the skin will need approximately 28 days to heal fully. During this time, you will have a series of restrictions that do not compare to those implied by a more invasive procedure, such as:
avoid swimming, saunas, and steam rooms for a month after your final session
do not engage in heavy exercise for five days after your last session
start to regularly moisturize the area after the fourth day of your final session
do not wash your scalp for the first days after your last session and keep it clean
avoid scrubbing your scalp for a month after the procedure to not disturb the pigment
do not expose your scalp to sunlight without wearing a hat or sunscreen with SPF 50
avoid touching your scalp too much, as it can lead to infection
use fragrance-free, antibacterial soap for the first month when washing your scalp
avoid applying skincare products with a high concentration of alcohol on your scalp
use moisturizer right after taking a shower and before going to bed
While the cost of the procedure can exceed $3,000 for people with nearly no hair on their heads, we can assure you that it is something worth investing in if the appearance of your hairless scalp bothers you. If you are a man with male pattern baldness, undergoing scalp micropigmentation can make you look significantly younger, restore your self-confidence, and radically change the way others see you and interact with you. If you are a woman whose hair is thin and this makes you feel self-conscious, scalp micropigmentation can help you, too, as it will add extra false hair follicles that will enhance the overall appearance of your hair. You will look as if you have fuller hair with more volume, and you will no longer have to carefully choose your hairstyle, as your hair will look great no matter how it is styled.
Scalp Micropigmentation Can Change the Way You Look Radically
Because it entails creating the illusion of having more hair than you actually have or that you have hair in the areas where you have gone bald, scalp micropigmentation can drastically change the way you look. Your face and, naturally, your hair are the physical features people notice about you immediately when they first meet you, and your desire to improve the appearance of your scalp is totally understandable. By virtue of scalp micropigmentation, this can be achieved in one to two months, as you will have to undergo between 2 and 4 sessions, depending on the situation of your hair, the texture of your skin, and other factors. Between each session, you will have to wait 10-20 days to allow your scalp to integrate the pigment.
The following are only some of the benefits of this amazing, innovative hair loss treatment:
no surgery
minimal maintenance
budget-friendly
no medication or chemicals
100% effective
long-lasting results
Our Scalp Micropigmentation Artists Will Provide You with Outstanding Results
For the past years, Macy and Rob have been performing scalp micropigmentation on hundreds of clients, who left the salon following their last session completely stunned and satisfied with the results and with their new look. One of the amazing things about scalp micropigmentation is that you can see the results right away. If you feel insecure about your hair and want to cover some bald spots or give your hair more density, you might be the perfect candidate for scalp micropigmentation.
Upon your first visit, they will carefully assess your hair situation to determine how they will carry out the scalp micropigmentation procedure. Afterward, they will also tell you how many sessions you will need and the cost of the procedure. Of course, upon your final session, you will be given a full list of instructions on how to care for your scalp for the next 28 days, which is crucial if you want it to heal properly and maintain amazing results for years to come.